Back to Success Stories
Linda's story

Starting Weight
12 stone 10
How long did this take?
3 months
Are you trying to lose, maintain or gain weight?
Want to lose another stone
Why did you start SMF?
I had tried almost every other diet going but was impressed with Gregg's weight loss and I wanted something simple to follow but didn't want to have to 'attend' a club where if you had a week where you didn't lose you were made to feel guilty. I wanted to have the tools to hand to help me make better choices.
Why is your favourite breakfast, lunch and dinner from SMF?
Favourite breakfast is banana, ricotta and honey, favourite lunch is Halloumi Burger and favourite dinner is Thai Red curry salmon followed closely by Orange baked chicken.
Why do you enjoy SMF?
I enjoy SMF because it is a realistic eating plan, backed by a Nutritionist and being good most of the time is a great ethos. The meals are quick to prepare and cook and there is so much variety.
Why is SMF different to other programmes out there?
It is an easy to follow plan with no counting calories or limits on what you can eat. It also has a great Facebook page where fellow members are there to support you at all times.
What is one thing you have learnt from SMF?
Being good most of the time is key.
What is the best thing about SMF for you?
Meals that the whole family will eat which are quick to make after a long day at work.
Would you recommend SMF to anyone else and why?
I have recommended to friends, mainly because its such a super friendly group and if you stick to it, it works.
Do you have any words or advice for someone looking to lose weight or get healthy?
Take one day at a time, start moving more and you will see the difference. Each little change adds up to make a big change in your health and weight.
Any other comments...
This really has been a game changer for me.  When I do have a treat I don't feel guilty as I know that I can and I know that nobody will shame me for it, that is so refreshing.  I've lost count of the times in other slimming groups where if you stayed the same for one week, they would ask 'what went wrong?'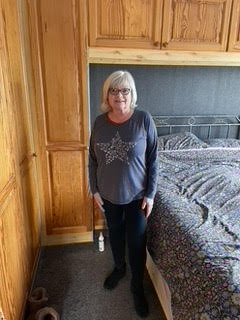 Comments? Questions? Come and join the discussion on our Facebook group
Don't have a subscription
Sign up now - £7 a month!

Team SMF .